Commentary by Kunal Mehta, head of fixed income specialist team.
Fixed income markets continued to face a challenging environment in January amid ongoing concerns around inflation and tightening monetary policy. Risk assets, notably equities, sold off during the second half of the month as a sell-off in large US technology stocks spread to the broader equity market, also impacting the credit market.
Late in the month, hawkish rhetoric from US Federal Reserve (Fed) chair Jay Powell following the Federal Open Market Committee's (FOMC) January meeting further hit risk assets. While the FOMC voted to leave the target range for its federal funds rate unchanged and said it remained on track to end its government bond purchases in March, Powell suggested interest rate hikes later in 2022 could outstrip market expectations.
Meanwhile, oil prices reached a seven-year high as supply failed to keep pace with the ongoing recovery in demand from the Covid-19 pandemic.
Monthly performance by market

Global government bonds
Corporate bonds
Emerging market bonds
UK
Europe
US
HY
Bloomberg Barclays Global Aggregate Treasuries (USD Hedged)
Bloomberg Barclays Global Aggregate GBP Corporate (USD Hedged)
Bloomberg Barclays Global Aggregate EUR Corporate (USD Hedged)
Bloomberg Barclays Global Aggregate USD Corporate (USD Hedged)
Bloomberg Barclays Global High Yield (USD Hedged)
JP Morgan Emerging Markets Bond Index EMBI Global Diversified (USD Hedged)
-1.35%
-3.24%
-1.24%
-3.15%
-2.24%
-2.85%
Past performance is no guarantee of future returns. The performance of an index is not an exact representation of any particular investment, as you cannot invest directly in an index.
Source: Bloomberg, 31 December 2021 to 31 January 2022. Bloomberg Indices are used as proxies for each exposure.
Government bonds
In the government bonds of developed markets, the US Treasury curve flattened as yields on shorter-maturity bonds rose more than those on longer-dated bonds. Government bond yields also rose in Germany and the UK, notably in the latter market, where market participants expect the Bank of England to further hike interest rates multiple times over the remainder of 20221.
Credit markets
In credit markets, spreads moved wider across the board, with global high yield and emerging market high yield debt seeing the greatest widening. Corporate earnings growth started to slow after a strong third quarter but remained resilient given inflation and supply-chain bottlenecks2. While inflationary pressures are high, thus far consumers have been largely absorbing the price increases. The 2022 outlook for corporate earnings remains sanguine as most sectors are set to make a full return to normal operations following Covid-19 disruptions, although we are unlikely to see a repeat of last year's stellar results.
Credit spread levels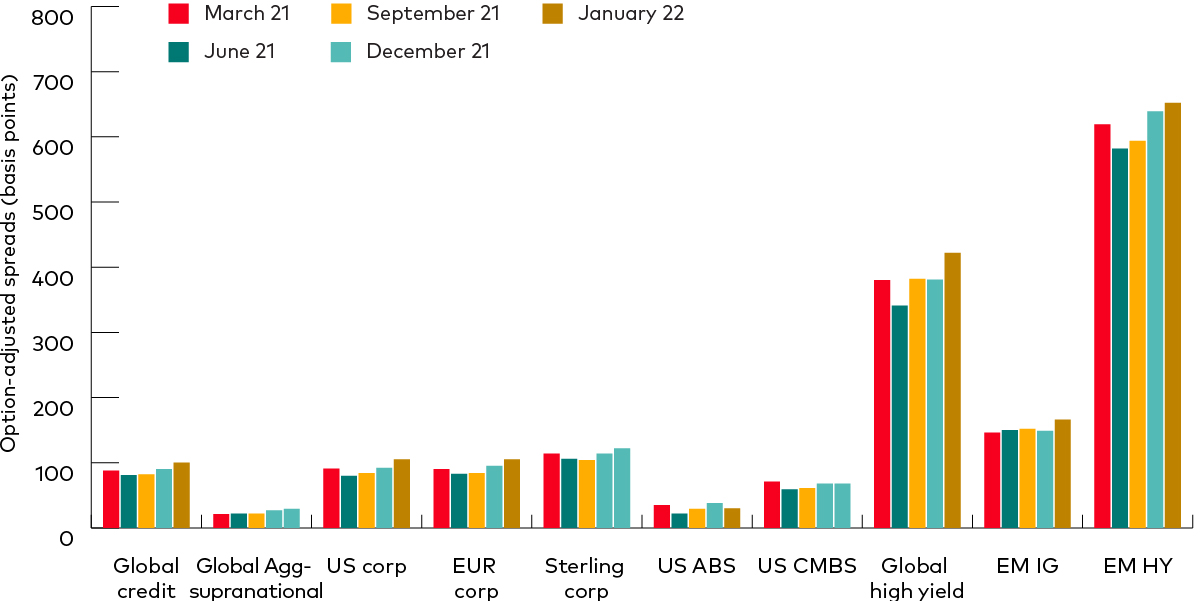 Source: Bloomberg Barclays indices: Global Aggregate Credit Average OAS Index, Global Aggregate Supranational Index, US Aggregate Corporate Average OAS Index, Euro Aggregate Corporate Average OAS Index, Sterling Aggregate Corporate Average OAS Index, US Aggregate ABS Average OAS Index, US Aggregate CMBS Average OAS Index, Global High Yield Average OAS Index. J.P. Morgan EMBI Global Diversified IG Sovereign Spread Index, J.P. Morgan EMBI Global Diversified HY Sovereign Spread Index. As at 31 January 2022.
While the supply of euro- and US dollar-denominated bonds in January was above average levels, our expectation is for 2022 issuance to be broadly in line with that of 2021. Demand for new issues has weakened in the face of significant supply and weaker risk markets, leading to a rise in new-issue premiums. Demand for "green" or "sustainable" assets, meanwhile, remains very strong. An increase in volatility as investors digested the prospect of higher interest rates caused investor flows to weaken and flows will likely remain sensitive to further volatility caused by inflation dynamics and central bank actions.
Emerging markets
Emerging market (EM) bonds weakened in January and the JPM Global EMBI Diversified Index returned -2.9% as fears of a more hawkish Fed weighed on the asset class. JPM Global EMBI Diversified Index spreads moved 16bps wider for the month, with EM investment-grade spreads widening more (+17bps) than EM high-yield spreads (+12bps). Despite weakening in January, EM debt outperformed developed market credit for the month as valuations started from a cheaper level, particularly after its underperformance in the fourth quarter of 20213.
An escalation in tensions between Russia and Ukraine caused sovereign bonds issued by those countries to sell off more than the rest of the index. However, as at the end of January, the conflict had had little impact on bonds throughout other EMs. EM local-currency debt proved more resilient than hard-currency bonds, driven in part by the fact that some EM central banks have taken a more proactive stance in responding to inflation than developed market policymakers, with many undertaking aggressive interest rate hiking cycles in 2021.
Emerging market bond spreads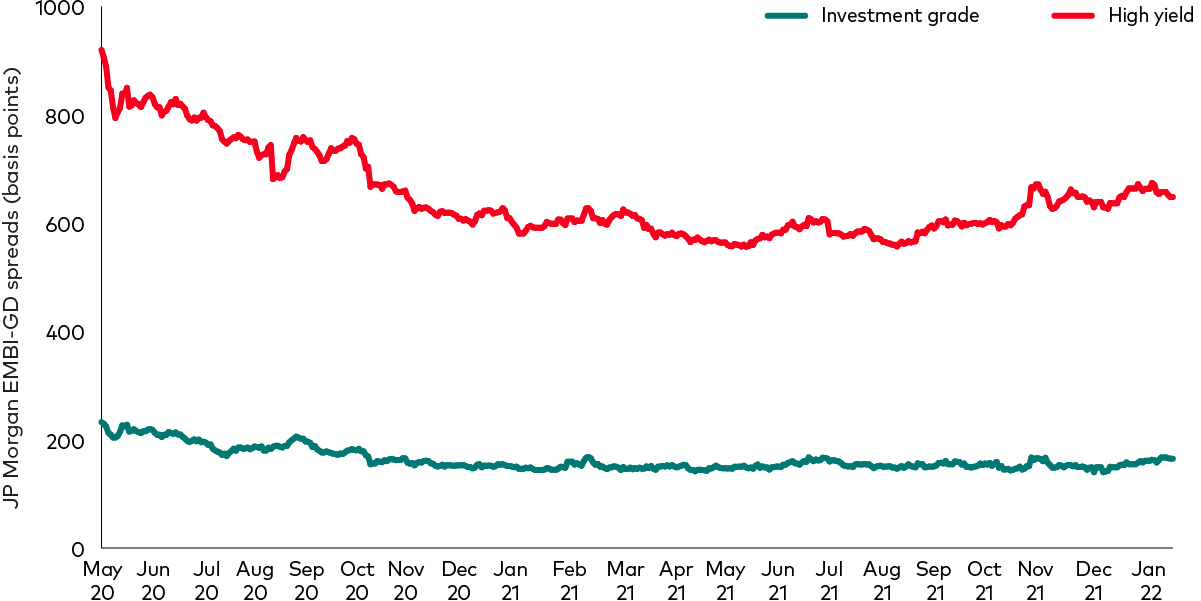 Source: Bloomberg, JP Morgan and Vanguard, 29 May 2020 to 31 January 2022.
EM sovereign issuance of $18.2 billion in January was lower than anticipated as a result of market volatility and represented the lowest January issuance level since 2016. The market was initially slow to absorb new issues, although new issue performance improved later in the month as sentiment rose, spreads widened and new issues offered larger concessions. Investment-grade EM issuers represented the large part of new issuance, especially Latin American sovereigns such as Mexico, Chile and Panama4.
Outlook
We remain cautious and expect further volatility as major central banks move away from their highly accommodative policy. We are constructive on credit exposure, although many of the highest-quality issuers are now priced too richly, in our view, and lower-quality issuers are vulnerable to a change in market sentiment. We have therefore continued to keep a reduced credit exposure over the last several months and are now focused on investment in credits that have upside potential based on improving fundamentals. Relative to more than a year ago, overweights towards specific sectors, business models or credit-quality buckets offer little value in today's market.
In EMs, while Fed hiking is a decided headwind, EM debt is in a strong position to outperform other fixed income sectors on account of favourable valuations, higher commodity prices and current investor positioning after a challenging 2021. We are especially constructive on EM high yield, where wider spreads offer some protection against higher US interest rates, particularly in countries with stable fundamentals and credible monetary policymakers. We are also positive on EM local bonds in countries where policymakers have aggressively responded to inflation. We are relatively more cautious around EM investment grade and prefer issuers that have completed their 2022 financing plans.
1 Vanguard and Bloomberg as at 31 January 2022.
2 Vanguard and Bloomberg as at 31 January 2022.
3 Bloomberg, JP Morgan and Vanguard as at 31 January 2022.
4 JP Morgan as at 31 January 2022.