Il punto di Nick Eisinger, Vanguard's emerging markets lead strategist.
Choppy waters lie ahead for some emerging market (EM) debt assets. Many developing countries took advantage of ultra-favourable borrowing conditions following the global financial crisis to load up their balance sheets. Now their financial positions are being compromised by an environment of unpredictable growth, rising fiscal deficits and public debt and limited access to hard-currency funding. For some higher-beta countries, the Covid-19 crisis has accelerated what has been described a 'ticking time bomb' and brought forward the cold reality of debt restructuring.

Defaults on the up
The next few years are likely to see more sovereign defaults. Many distressed EM countries have both a large fiscal funding need and a large (and rising) external funding need. This makes for an extremely fragile situation because, even if a country is able to marshal a stronger response to its fiscal funding needs by tapping domestic markets and leaning on its central bank, it is unable to print or create US dollars.
While IMF support and G20 debt relief last year have provided much-needed foreign liquidity to many 'frontier' nations, almost all EM countries ended 2020 with much higher debt burdens, lower foreign exchange reserves and still sizeable external funding needs. Of course, these countries have entered 2021 with the advantage of an exchange rate that has already depreciated significantly in many cases and thus could rebound should the global outlook turn more favourable. This could certainly have some advantages, including supporting their debt metrics, but it also means that many countries are in a much weaker position to absorb any fresh shocks that may materialise in the next one to two years.
EM sovereign defaults are outpacing the long-term average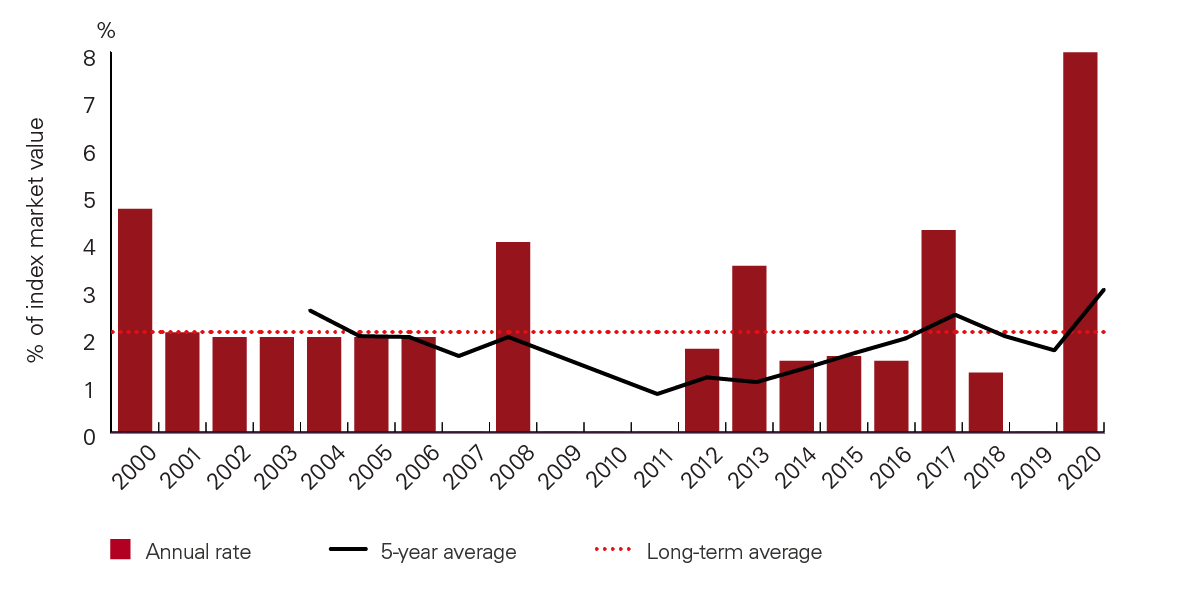 Source: J.P. Morgan, J.P. Morgan EMBI Global Diversified Index. Data as at 30 November 2020.
Debt restructuring will be complicated
A more direct consequence of the pandemic is that over the next one to three years, it is likely that other countries follow Ecuador and Argentina's lead by restructuring their debt. This has been a fractious experience for private bond holders given the threat that part of the value of their holdings will be wiped out by so-called 'haircuts'.
A key factor to consider here will be the depth of the restructuring. Generally, both creditors and debtors have a shared interest to resolve default situations as fast as they can: investors to minimise losses to their underlying shareholders, debtors to get economic and financial activity back on track. But while a rapid solution can look initially like a good deal for all parties, there remains the risk that it proves unsustainable, ultimately leading to the debt needing to be restructured all over again.
While it is difficult to project how the different macro factors that determine a country's ability to service its debt will evolve (including growth, export earnings, fiscal consolidation, global interest rates and exchange rates), it is clear that a country with a still large stock of debt will remain vulnerable to future economic shocks that could bring it and its creditors back to the negotiating table.
A further complicating factor for debt restructuring is the sheer range of creditors of most EM countries. As well as local debt, these can include bond holders, trade finance, multilateral and development finance, and bilateral and Chinese debt. A comprehensive solution often has to address all these different stakeholders, which is both legally very challenging and potentially highly disruptive to domestic financial systems.
Investors should not fear distressed situations
In light of these considerations, investors could be forgiven for deepening their concern over the sustainability of sovereign debt across a number of developing countries. Nevertheless, as part of a risk-controlled investment process, there is scope and opportunity to take exposure to select troubled sovereigns at the right price.
A cautious approach that is firmly based around solid fundamental research and scenario-analysis is critical, not least because higher-beta countries form an increasingly large part of bond indices1. This means investors will need to have some exposure to these names, albeit on a selective basis. Managed in the right way, with rigorous fundamental analysis and a robust risk-focused investment process, investments in distressed sovereigns can make a meaningful positive contribution to EM portfolios.
It is important to avoid being so scared of sovereign default that you reject crisis countries altogether. There will usually be a price-point where it makes sense in risk-return terms to buy distressed bonds. Equally, there may be solid reasons to add exposure to a sovereign in the immediate aftermath of a restructuring announcement or market speculation of a restructuring. This can allow you to benefit from a range of technical factors that can have bonds from the same issuer behave very differently. It can also allow you to take advantage of what is often a lengthy period before an actual legal restructuring takes place. If, for example, you can buy bonds at 30 cents on the dollar and receive a coupon payment or two before actual default takes place, that can often be a good investment.
No repeat of the 'lost decade'
We do not believe that EM debt markets will return to a situation reminiscent of the widespread, systematic defaults of the 1980s. Yet it is reasonable to assume that the markets will be focused on a higher incidence of debt default or restructuring in the next few years. We would also highlight that while higher spreads on many of these countries do signal greater credit stress, the link between spreads and actual default has not always been clear. Indeed, the incidence of defaults has not increased during times of high spreads for EM overall, while some country defaults have taken place in period where overall EM spreads are compressing. Spreads can signal general nerves, a reaction to broader 'systemic' risk factors such as risk aversion, as well as a liquidity premium, and most relevant for this part of the market, uncertainty.
The possible spike in defaults is unlikely to have a toxic effect on EM more generally given the investment-grade status of many large EM countries, as well as the flexibility they now enjoy in terms of local-currency domestic bond issuance. It is, however, a phenomenon that can trouble the higher-beta part of the market.
Unlike the Latin American debt crisis of the 1980s, the systematic exposure of global banks to EM sovereigns is much lower and is less in loan format than in bond format2. With systemic risk much better distributed these days, a rash of sovereign defaults would not necessarily jeopardise the stability of the global financial system. Given this consideration, it may be reasonable to expect that future debt restructuring will be broader and deeper than the shallower, piece-meal debt agreements we have seen recently, in an attempt to place countries on a sustainable path to financial stability.
So while EM distressed situations are not necessarily something for investors to fear, the case for taking an active approach rooted in deep fundamental analysis and security selection is stronger than ever.
Vanguard's Emerging Markets Research Team
The team manages $12.7 billion globally in fixed income assets (as at 30 September 2020), expressed in US dollars, including $10 billion in emerging markets assets.
Available funds with active emerging markets bond exposure
Emerging Markets Bond Fund - Institutional Plus USD Acc
Emerging Markets Bond Fund - Investor EUR Hedged Acc
Emerging Markets Bond Fund - Investor GBP Hedged Acc
Emerging Markets Bond Fund - Investor USD Acc
Emerging Markets Bond Fund
The fund seeks to provide total return while generating a moderate level of income by investing primarily in bonds of issuers in emerging market countries. The fund employs an "active management" strategy, and while the fund will invest in components of the J.P. Morgan EMBI Global Diversified Index (the "Index"), its investment manager will follow distinct approaches in managing the Fund's assets.
1 Source: J.P. Morgan EMBI Global Diversifi­ed Sovereign Index. So-called "frontier" names constituted some 18% by market value of the benchmark as at 29 January 2021.
2 Source: BIS. BIS data from a March 2019 study show that the average share of foreign bank credit to emerging markets fell from over 30% in 2008 to around 15% in 2018. In 1982, US commercial bank exposure to Latin American nations exceeded USD 327bn, or roughly three times their combined capital.