March 2020's unforgettable market volatility, which caused fixed income and other assets globally to reprice, has given way to a rebound, sponsored by central banks and government authorities.
The combination of low interest rates, central banks buying bonds and a steady global search for yield has driven spread levels significantly tighter across nearly all segments of the global bond market. Emerging market (EM) bonds have retraced from their weakest point but not as strongly as some other asset classes, such as corporate bonds, which were included in the US Federal Reserve's extraordinary repurchases. This leaves room for EM bonds to perform.
Strong retracement – but is there more to come?
EM bonds have recovered but are still trading at relatively cheap levels.
J.P.Morgan Emerging Markets Bond Global Diversified Index (EMBIGD) option adjusted spread (OAS)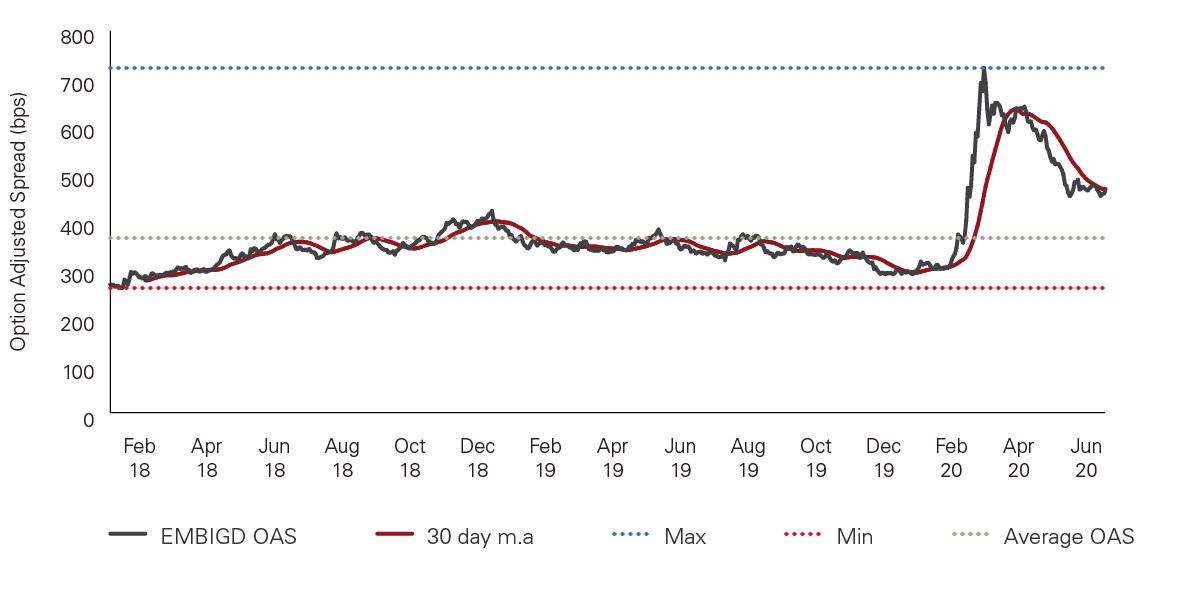 Past performance is not a reliable indicator of future results.
Source: J.P. Morgan EM Indices and Vanguard calculations, from 23 January 2018 to 30 June 2020.
Navigating dispersion in the market
EM as an asset class has always had a lot of dispersion; across different countries, sub-asset classes, government bonds versus corporate bonds, investments in hard currency versus local currency, and even along country's credit yield curves (e.g. a 10-year bond versus a 30-year). The recent market volatility has heightened these dispersions making their navigation even more relevant. This is not a time to take large 'beta' or directional views.
This is where our active management approach, using in-house fundamental and relative value research and macro strategy, can help us to avoid the weaker parts of the market that could experience major distress.
We adopt a multi-step process, which ultimately is designed to avoid concentrated and correlated positions in the portfolio and to avoid large downside losses. We focus on country fundamentals and how these will be affected by a changing macro environment, but we are disciplined in merging this fundamental view with how markets are priced.
In addition, we focus considerable resources on running alternative scenarios to the outlook and assessing how fundamentals could change, to determine how the portfolio would be affected in the event of a tail risk materialising.
From a bottom-up level, we examine the technical factors, such as issuance pipeline, investor demand and potential credit ratings changes at play in the markets, to uncover where bonds may be mispriced or where they have under- or outperformed their risk. We want to be in the best asset class within a country and in the best part of that bond (local or hard currency) yield curve.
Right now we see value in some of the higher-quality EM countries, including Qatar and Abu Dhabi, both of which have large natural and financial resources. These have rallied since the height of the Covid-19 crisis in March, yet are still trading cheaply relative to where they were before the sell-off. In our view, these countries are better insulated than others from the very real credit and macro challenges that will accompany the eventual normalisation of economies, following the shock caused by the coronavirus pandemic.
We are also constructive on the high-yield segment of EM countries. At the extreme end of EM high yield, we will still invest in countries like Lebanon, Argentina and Ecuador. Their recent defaults had been well anticipated by the market and, after rigorous analysis, we made an assessment of the price at which we would buy the bonds, based on what we expect will be paid (as the eventual recovery rate) when the distressed issuers (mainly sovereigns) exit the restructuring phase of their debt.
At the same time we like several EM rates (local currency government bonds) markets such as Russia, South Africa and Indonesia, where we feel that support from their central banks and local investor base remain an important driver of performance. We find EM rates can behave very differently to credit in current markets, and this helps to diversify the portfolio. We will often consider EM currency views separately to local currency government bond views. For example while we are currently running a short USD position in the strategy overall, some of our local currency bonds are in fact hedged back to the US dollar.
In order to decide whether to invest in government bonds in the local currency versus investing in the currency itself, the crux is understanding the different degrees of volatility attached to each. How the dynamics of the local currency change whether you are investing in credit or government bonds gives us an insight into how to size a rates position in the fund relative to a credit position (what hedge ratio we should use, for example).
While there are parts of the EM rates market that behave more like developed rates, or at least are more correlated to what the EM central bank is doing, there are higher-yielding markets where they tend to behave more like credit. A disciplined approach is needed in these markets.
Emerging Market FX continues to lag
Credit and rates have performed well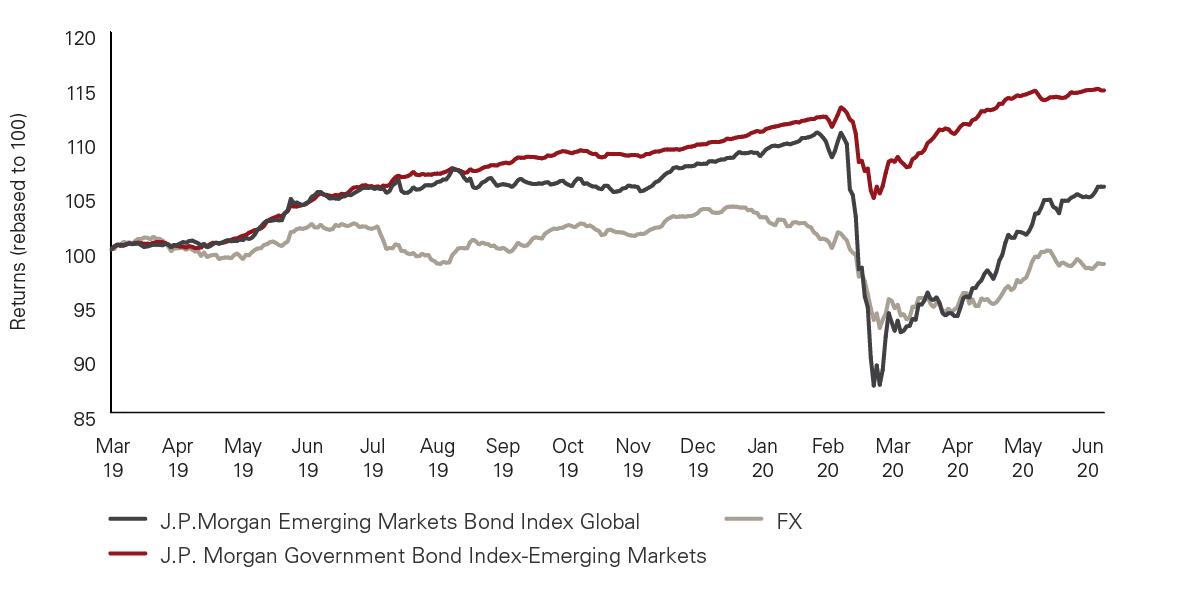 Past performance is not a reliable indicator of future results.
Source: J.P. Morgan EM Indices, Vanguard calculations. From 28 March 2019 to 6 July 2020.
FX refers to the J.P. Morgan Emerging Local Markets Index Plus (ELMI+) Composite
Discipline in managing risk
Our investment philosophy is based around discipline in managing downside and liquidity risk. There is an acute emphasis on controlling the degree of market beta we are exposed to at any time, and in particular the avoidance of concentrated and correlated risk positions or factors. This means, for example, that we look for the best investment prospect within a broader set of investment opportunities and seek to avoid multiple prospects that might be subject to the same or similar risk factors (such as high-yield oil exporters).
We assess issuers through multiple lenses and stress test each on its liquidity and solvency metrics across various scenarios. Then we compare our fundamental views to the valuation levels of their bonds. We remain selective and try to avoid deteriorating situations.
Looking ahead
We believe EM should stay resilient over the summer due to positive sentiment around lockdowns easing and further policy accommodation. Yet risks are rebuilding and the 'easy' stage of the market rally may be behind us as the long-term damage from the Covid-19 crisis comes to light and the market focuses on the upcoming US presidential election. Against this backdrop and with the market fragmented, we believe security selection will drive performance.